Planning is a crucial part of business growth. Without a plan it can be difficult to focus on the tasks that will drive your business forward.
However, even though most people admit to seeing the benefits of having a plan, the reality is that most business people don't ever get around to writing one. The general perception is that it will be a time consuming and tedious process; and if you're not going to stick to the plan, what's the point anyway?
But that's because the way we've been taught to plan makes the process impractical and unenjoyable. But it doesn't have to be that way.
I use a 3-step process that makes planning easy, meaningful and practical. My approach centres on identifying the 3 or 4 specific, high priority goals that will really drive your business forward in the next 90 days and listing the actions associated with each of those goals.
I'm going to teach you this approach at my next 90 Day Business Planning workshop which we're holding, live and in person, on Friday 8th October. By the end of the session, you will walk away with your own plan and a laser-like focus on your priorities and the actions to achieve them.
As well as writing your plan, the day will be packed with new strategies and practical ideas to help you grow your business and inspire you. We're also going to be joined by Nicole Chase, the Strength and Conditioning Coach for the Team GB rowing team, who will be sharing her insights on how to build and maintain high performance habits and how they can be applied to business.
If you'd like to join us for this high energy workshop you can visit us  here.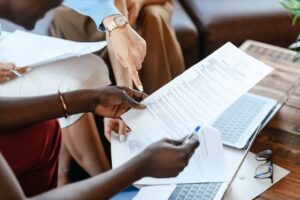 In the meantime, I want to share with you an outline of the 3-step planning process that I use myself and with my clients.
Step 1: Review and reflect on the previous 90 days.
We can't change the past, but we can learn from it.
Human nature is such that we tend to focus on the negatives, or the things that didn't go well. It's easy to 'beat yourself up' about the things you didn't achieve and the mistakes you might have made. And, of course, we can, and should, learn from our mistakes.
But start by identifying your successes: What went well? Try to be specific by putting numbers on those successes. Rather than saying 'we had a good quarter', produce the evidence e.g. 'we grew the pipeline value by 19%' or 'net profits increased by 10%'.  Then understand why those things went well. To what do you attribute your success? And finally, how did those successes benefit your business? And how can you build on them?
By focusing on your successes, you can gauge how far your business has moved and build further on the successful strategies.
Step 2: Set goals for the next 90 days
Having an idea of the direction you want to take your business is fine, but how will you know whether you've succeeded if you don't have specific and measurable goals to aim for?
So, what are your priorities in the next 90 days? And what does success actually look like to you and your business in that period. If winning new clients is one of your priorities, does one new client or ten new clients represent success? If building stronger relationships with your clients is key, how can you measure that and what level of improvement can you aim for?
It's also important at this stage to understand why these goals are important to you. What will achieving them mean for you and your business? I've seen business owners set goals that don't turn out to be that important to them and, inevitably, the goal and the related activity around it eventually falls by the wayside. The goals that are most important to you will be the ones you will be most focused on achieving. If it's not important, don't include it.
Step 3: Identify your actions….and take action.
For each goal identified in Step 2, work backwards and identify each step that you need to take to achieve it. For example, if your goal is to win 3 new clients in the next 90 days, that might require you sending proposals to 6 prospects, which might entail you having to send a sales email to 50 prospects initially. The format I use enables you to create the specific actions required, assign them to individuals and to timetable them. Being clear and precise will help you stay motivated and increase your hunger to put the plan to action. And by scheduling the actions you are far more likely to take action.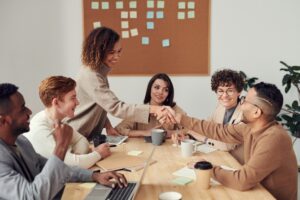 Using this 3-step process to business growth planning has yielded great results, which is why I wanted to share it with you. If you'd like to learn and execute this process with myself Paul Cook at our 90 Day Business Planning workshop, get your tickets here.