Imagine having a cash-rich business
that works without you.
The reality is, that most don't…
A devastating 96% of business owners close their doors in the first ten years.
What about the 4% that survive?
Most of them aren't enjoying it or profitable either.
Unfortunately, most businesses never achieve the dreams they set out to achieve.
Why?
Because a great hairdresser doesn't always run a great business, even if she's the best in the world at cutting hair. The thing that's missing……….
Business Education
"I'd love to have more money and spend less time at work, but I don't know how to grow a business."
That's a common frustration. We believe that every business owner deserves the rewards a commercial, profitable business brings.

No one should ever have to close down their business or take the stress home with them.

You don't need a new business, you don't need to beat yourself up either, you just need a point in the right direction and some accountability to get stuff done.

98% of our clients said that we helped them feel happier in business and feel happier when they walked through the front door at home.

Come along to one of our events, or book a free 1-2-1 coaching session and we'll show you how to grow your business.

If you don't leave with at least one idea that made it worth your while coming, we will pay you for your time. 

And if you join one of our programmes, we will start to build a business that's profitable and works without you.
"Measure your financial success by how free you are to do what you want when you want…Rich has money. Wealthy has time and money"
(Brad Sugars)
Free 60-minute Business Health Check
Have you ever sat down and analysed your business, and how it is performing?
More often than not, we get so caught up in the day-to-day running of businesses that we run out of time for the essentials. Book a complimentary coaching session with ActionCOACH Newcastle and gain clarity in your business.
Action

COACH

 

Guarantee
At ActionCOACH Newcastle we offer a "no result? No fee guarantee!". The guarantee is to get results for you and that you "find our fee" in your business within 6 months of coaching otherwise the coaching is free.
We guarantee to tell the truth about you and your business no matter how uncomfortable it may be, or how hard it is to share with you the realities of your business and the changes you need to make. We guarantee a personalised approach to your business and also guarantee complete confidentiality of our work together.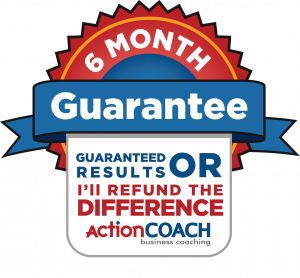 Get In Touch
How Can We Help You?
Send a message
Contact info
Newcastle | ActionCOACH ActionCOACH Newcastle
Beaufront Business Park
Anick Road
Hexham
NE46 4TU