Business Growth Specialists
Want to grow your business?
Business Coaching with ActionCOACH Newcastle can help you grow your business.
If you want to increase your profits, improve your team and optimise your time, then there's never been a safer way to do it. Our business growth methodology is so tried and tested, that we guarantee your profits will more than pay for the service.
Why have a coach?
To access the practical knowledge that your coach has, in relation to the development of strategies to improve all areas of your business.
 To remain accountable to a pro-active mentor who will make sure you work on the business not just in it.
 To have someone experienced to brainstorm with as a fellow business owner; somebody who understands the psychological challenges you face as a business owner.
 To receive a true outside perspective, from someone who isn't blinded by the industry norms.
Don

'

t just take our word for it…
Hear it from ActionCOACH

'

s clients!
"Having identified a need within my business for some team training, the question was do I deliver it myself or bring in an external organisation. Having discussed the options with Paul Cook, his enthusiasm for what he does made me decide to appoint ActionCOACH Newcastle. Any lingering doubts as to if this was the correct decision were soon alleviated only 45 minutes into the first session as Paul had complete engagement from all staff including myself.

The session of 3 workshops were all targeted, to the point, and got the entire team not only engaged but also reflecting on their own practices and the practices of others. After each session had finished there were meaningful discussions and actions taken by the staff to resolve pinch points in the processes and the behaviors of individuals.

I would 100% recommend Paul and the Action Coach team as it has been hugely beneficial for myself, my busines,s and the staff.

Thanks again Paul."
Paul Cameron, Director, Simmer&Soak
Here from more of our clients below!
Working relentlessly in the business is a common problem most business owners face.
Managing Director, Steve Taylor, was working hands-on in his business and wasn't able to grow the business in the direction he visioned.
Reaching out to a Business Growth Specialist from ActionCOACH provided the much-needed direction for the business. Since working with ActionCOACH they have managed to:
✔ Doubled the turnover.
✔ Increase net profit by 3x.
✔ Spend more time with the family.
"What we've done financially is different, not only with the turnover but the time and the experiences I'm able to have with my family are priceless."
– Steve Taylor, Managing Director of iCatching Events.
Having the right guidance from a business mentor has given Deborah the confidence to grow the business to new heights.
Running a business without a clear vision or a plan is a common problem for many business owners.
Working with ActionCOACH has enabled Deborah to focus beyond the day-to-day running and focus on business growth. Since working with ActionCOACH, they achieved:
✔ 45% turnover increase.
✔ A clear business vision.
✔ Confidence growing the business.
– Deborah Law, Managing Director of Deborah Law Interiors.
Free 60-minute Business Health Check
Have you ever sat down and analysed your business, and how it is performing?
More often than not, we get so caught up in the day-to-day running of businesses that we run out of time for the essentials. Book a complimentary coaching session with ActionCOACH Newcastle and gain clarity in your business.
Action

COACH

 

Guarantee
At ActionCOACH Newcastle we offer a "no result? No fee guarantee!". The guarantee is to get results for you and that you "find our fee" in your business within 6 months of coaching otherwise the coaching is free.
We guarantee to tell the truth about you and your business no matter how uncomfortable it may be, or how hard it is to share with you the realities of your business and the changes you need to make. We guarantee a personalised approach to your business and also guarantee complete confidentiality of our work together.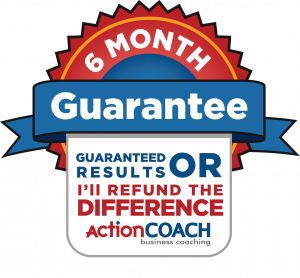 Get In Touch
How Can We Help You?
Send a message
Contact info
Newcastle | ActionCOACH ActionCOACH Newcastle
Beaufront Business Park
Anick Road
Hexham
NE46 4TU